Righty, apologies again for the lateness on this one but I've had to wait until I cleared the enormous backlog of work that had built up at home whilst I was out galavanting around the festival, and boy has it been a stressful few days. but hey, that's not your concern is it? (the correct answer is 'No.')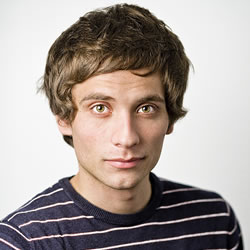 He's got work to do - Daniel Simonsen

So where was I - ah yes, Friday. After a fairly disappointing midweek selection, I was looking forward to seeing Norway's finest export since A-Ha
Daniel Simonsen
testing out some new material at the Crumblin' Cookie. Simonsen is obviously a good comic, his unique trains of thought and self-conscious, slightly awkward persona has been winning him many plaudits over the past year or so. Sadly, his new material was not up to scratch. Okay, when a show is billed as 'Work In Progress' you don't expect it to be fully polished, but this was stretching the term to the very limit. Simonsen spent a very uncomfortable hour on stage, trying out half-written idea after half-written idea to very little response, and became visibly more and more disheartened as the hour dragged on, sighing and shrugging, and occasionally producing a laugh from the audience by referring to how badly it was going. As the show plodded on, Simonsen unveiled some good ideas, but failed to develop any of them to their full comic potential, and gradually, one by one the audience began to leave as it became clear that it was not going to get any better. About forty minutes in, after the eighth person had left the room, Simonsen briefly abandoned his notes to ad-lib for ten minutes or so, pretending to be the audience member (Malcolm) who had just walked out. This was by far his most successful spell, the audience reacting well to his improvised account of Malcolm's life after the show, how he became depressed and his marriage disintegrated, all as a result of seeing a bad gig. Despite the dark content, it worked and brought an energy to the room that had been lacking for the previous forty minutes. Eventually though, he ran out of steam on the ad-lib, and with a resigned shrug, went back to his notes for the final ten minutes, and was met with the same lack of enthusiasm by the crowd. A sad affair, but hopefully a much-needed kick up the arse for Simonsen to develop his new ideas further, so that they become as funny as his old material.
Sickening observations - George Ryegold
Despite another disappointing experience, there was no time to be despondent, because I had to hot-foot it over to the Criterion to see one of my all-time favourite acts,
George Ryegold
, performing in one of his favourite venues. This show was also billed as a Work in Progress, but was quite the opposite of the previous affair, as Ryegold (alias Toby Williams) produced a typically magical hour of sickening observations and disturbing ideas, restoring my temporarily dented faith in live comedy. Ryegold is a fantastic character, who manages to say the very worst things but somehow still remain likeable and funny throughout with his bad dress-sense, full beard, booming voice and eloquent brand of wrongness. Highlights included the former surgeon expanding upon his horrifically un-pc theory that third world children would have a better and longer life if they were farm-reared; his account of the (lack of) fame and fortune that winning 2010s Best Show award at the festival have brought him; a set of typically graphic observations concerning the porn industry and its effect on real-life sexual habits and the room laughed heartily as a poor audience member was mounted on stage as Ryegold re-enacted the time he was violated by a powerful woman. I think it's safe to say that this character is a little too risqué for television and there is still barely any of his material on YouTube, so my advice is go and see him live whenever the opportunity arises - and he will be back in town, because he loves Leicester (particularly The Criterion) and Leicester loves him right back.
So that was my Friday - two polar extremes of the entertainment lottery that is the 'Work in Progress' show.
In high spirits, I stayed out for a few drinks with performers, festival judges and friends, trying not to get too sozzled, as there was work to do in the morning, followed by my own turn to put on the judge's hat and help choose a new stand-up star of the future...