Howdy there comedy folks! Hope you've all been enjoying a spot of relaxation since the festival ended, and I hope that by now you're getting over the various diseases you contracted from spending night after night in hot, airless, crowded rooms full of other people's germs. If it's a hearty 'yes' to both of the above, then you're probably about ready for some more comedy pretty soon, right? Of course you are... Well, I have some good news for you then. Read on for a round-up of what's coming up over the next month in Leicester (including more award-nominees than you can shake a stick at), as well as your chance to join our third birthday celebrations and win some awesome prizes!
Award-nominated - Jim Smallman
Coming up on the local scene:
This Monday sees the official festival awards ceremony, so we'll be featuring a full report on all the winners, losers, tears of joy and drunken tantrums next week. Following that, the intriguingly named
Club Smashing
arrives at the Cookie this coming Wednesday (18th March) to inject a strong dose of the alternative into the regular comedy circuit. Read our entertaining interview with hosts
Ian Hall
and
Bruce Edhouse
here
, and see below to win FREE TICKETS to the show amongst other prizes. The following night (Thursday 19th) sees the return of the
Exchange Comedy Club
hosted by
Alex Hylton
, featuring
Jim Smallman
and
Dan Nicholas
, who have both just been nominated for awards for their shows at Dave's Leicester Comedy Festival - given that's it's free entry I'd say that's damn good value for money! Looking slightly further ahead,
Comedy & Cocktails
returns with host
Dave McGuckin
on Tuesday 7th April with another selection of top up-and-comers from the Midlands and beyond, for only a single pound of your British currency - always good value and always a lovely atmosphere in which to discover new acts.
Him off the telly: Omid Djalili
Meanwhile at De Montfort Hall, TV funnyman
Omid Djalili
brings his tour show 'Iranalamadingdong' to the city, with support from comedians' favourite
Boothby Graffoe
. You can get tickets for that
here
. Later on in the month, LA actor Miles Allen brings his bandwagon-jumping Edinburgh smash '
One Man Breaking Bad
' to the venue, which is bound to be a big hit with fans of the show. Get your tickets
here
.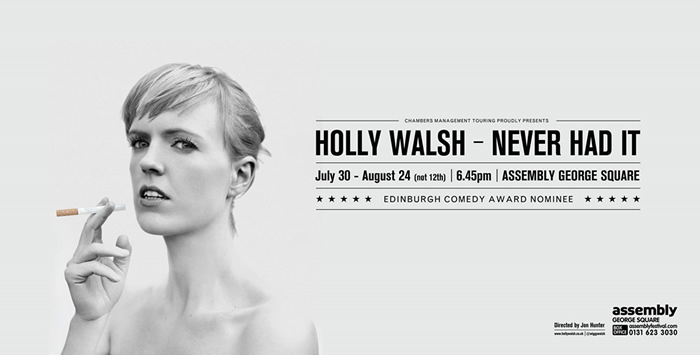 This poster won an award too by the way.
That's right - even posters can win awards these days... ridiculous!
Also on Tuesday 7th, the
Cookie Comedy Club
returns with a vengeance, playing host to the latest tour show from the ever-popular
Holly Walsh
. In 'Never Had It', the former Foster's Best Newcomer nominee talks about the elusive and indefinable qualities of charisma and self-assurance that she has never possessed. Check out the four-star review of the show on
Chortle
. Get your tickets
here
.
Yet another bloody award-nominee - Jen Brister
A few days before that show on Saturday 4th, there's another quality mixed line-up at The Cookie in the form of
Jen Brister, Phil Jerrod
and
Craig Murray
. Nominated for Best New Show at last year's DLCF, Jen is hugely likeable lady who uses her vocal talents and innumerable facial expressions to enhance her witty observational and anecdotal routines. Phil is a real wild-eyed anomaly - a frantic, stream-of-consciousness whirlwind on stage, he too is nominated in this years DLCF awards and was and a runner-up in last year's Leicester Mercury Comedian of the Year. Craig is a quick-witted Yorkshire lad with a real gift for audience banter, whom you may recognise as the fella from the PlusNet broadband ads. You can book tickets
here
, or... if you're lucky you can
WIN A PAIR OF TICKETS
to this show. Read on...
Competition Time:
Leicester Comedy Scene is celebrating its
third birthday
, with the first ever post having appeared on
16th March 2012
. Since then we've had almost 30,000 page views and gathered 500 followers on facebook - not bad for a little local niche site I think you'll agree! So to reward all you lovely comedy fans for your continuing support, we're giving away two tickets to the
Cookie Comedy Club
on Saturday 4th April and two more for
Club Smashing
on Wednesday 18th March.
How to enter:
I love it when people share LCS articles on social media because I'm a narcissistic, self-promoting media whore. So what I want you to do is
share
the official LCS
Facebook
post about this article, or retweet our official post about this article on
Twitter
, and anyone who does that will be in with a shot at winning one of the two pairs of tickets. Names will be selected at random from anyone who shares/retweets before the closing date of
midday on Tuesday 17th March
, so get sharing/tweeting folks, and good luck!
See you soon in comedyland,
Paul.