Aaaaand so another fantastic festival comes to an end, and somewhere in Leicester the judging panel will be meeting in a secure bunker for the annual food-fight to decide who wins the awards.
It'll be interesting to see what they pick, but personally I was glad to be free from judging responsibilities this year. It meant that I could take it easy, enjoy myself and see pretty much whatever I wanted to (when I wasn't reviewing for the Mercury, helping to organise the Leicester Fridge shows or shamelessly begging people to vote for my designs in the Poster of the Festival competition, that is!)
As always I didn't make it to some shows that I really wanted to see, but I managed to get out almost every night of the festival and see some cracking comedy. So just for the record, here are some of my personal faves from the 2015 fest.
Beth Vyse as the insane Olive Hands
Beth Vyse - Get Up with Hands:
an intense and insane hour from a massively talented comic actress. The humour was dark and often filthy, with great performances, twisted audience participation and hilarious projected visuals.
The Battle for Leicester:
a fine showcase of the local comedy scene. The audience were well up for it and in fine voice, and everyone involved put in an absolutely top-notch performance. Definitely set to become a regular event in the comedy calendar.
Adam Larter - Gary and the Crisp Factory:
a supremely silly and fun show from a great all-round entertainer, full of local references and daft film parody... a wonderful gift to Leicester from London.
Mark Thomas - Cuckooed:
two shows in one - 40 minutes of smart political stand-up, followed by a deeply intimate and affecting story, told with superb stagecraft.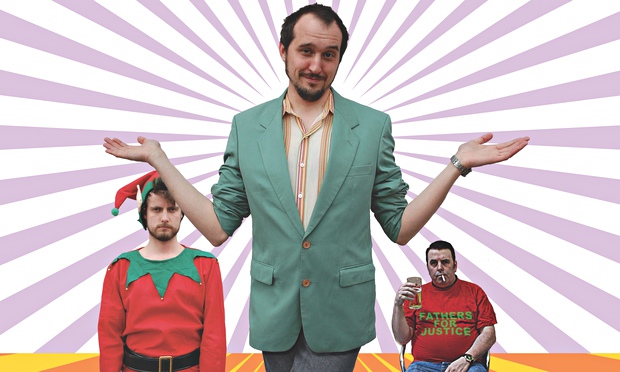 The folkz from Funz and Gamez
Funz and Gamez:
a kids' show put on by people who really shouldn't be entertaining children, highly inappropriate and massively fun. The kids loved it too!
Hall and Edhouse - the Two Syds:
it was a shambolic delight to watch these two local heroes send up classic comedy double-acts, and in the process create a brand new one.
Paul Foot - Hovercraft Symphony in Gammon Sharp Major:
more top-drawer nonsense from the master absurdist, and more unrestrained laughter than I've heard at any show this year.
The Further Adventures of Shirley:
easily the most immersive show I've ever been to, in which the whole audience got to make sock puppets and medals, learn a dance routine and pretend to be an instrument in an orchestra. Great fun for kids and a great excuse for adults to act like children for an hour.
Old-school fun from Otto Kuhnle
Otto Kuhnle: Das Otto Kuhnle Uber-show:
one of those shows you stumble into with no prior knowledge of the act and end up loving. Featuring yodelling, performing gnomes, home-made instruments and a mouth full of ping-pong balls, this was old-school variety at its very daftest.
Alex Edelman: Everything Handed to You:
The Foster's Newcomer award-winner proved that the Edinburgh panel were right to pick him with a new hour of slick, smart, self-assured stand-up.
This New Yorker's gonna be big, I tell ya...
Mr B the Gentleman Rhymer - Chap Hop Superstar:
great fun as always, with singalong silliness and chair-dancing aplenty. There's nothing like a ukelele version of 90s rave classics to get me grinning from ear to ear.
Ahir Shah - Texture:
highly intelligent observational, philosophical, intellectual comedy from a disturbingly talented individual. A worthy winner of the Best Show award last year.
So there we have it. Very little in the way of straight stand-up in there - it appears that my main taste at the moment appears to be for the silly/absurd/variety end of the comedy spectrum, along with some intelligent stand-up to balance out all the daftness. I could go on, of course, because there were a lot more shows I saw that are worthy of praise, but I suspect you're throughly bored of this post already, so I shall shut up now, and we can all try and re-establish some sort of normality into our lives after three weeks of delightful madness...
Let us know what your favourite shows were on the
Leicester Comedy Scene facebook page